Internal Financial Control (IFC)
ICFR Implementation services:
Background of ICFR
Relevant provisions of ICFR
Applicability matrix
IFC vs. ICFR
Our services in ICFR

Deliverables
Scope of work
Execution strategy
1
Background of ICFR
To understand the background of Internal Financial Control over Financial Reporting (ICFR), let's divide the period in two parts:
Up to Financial Year 2014-15:
 So far, companies were to satisfy their Statutory Auditors about the adequacy of Internal Controls related to purchase of inventory and fixed assets and sale of goods and services for Auditor's reporting under CARO.
However, in case of listed company, Clause 49 of the Equity Listing Agreement requires that CEO and CFO of listed companies to certify to the board of directors that they accept responsibility for establishing and maintaining internal controls for financial reporting and that they have evaluated the effectiveness of internal control systems of the company pertaining to financial reporting.
From Financial Year 2015-16 onwards:
The Companies Act, 2013 has stated specific responsibilities on the board of companies towards the company's internal controls and, inter alia, requires the board to state that they have laid down internal financial controls to be followed by the company and that such internal financial controls are adequate and were operating effectively.
Statutory auditor of company will be giving a separate report on the adequacy and effectiveness of Internal Financial Control over Financial Reporting with effective from Financial Year 2015-16.
Compliance of Clause 49 of the Listing agreement will continue to be complied by the listed companies.
2
Relevant provisions of ICFR
Section/Rule
Related to
Description
Rule 8(5)(viii) of Companies Accounts Rules, 2014
Board Report
Board's report to include the details in respect of adequacy of internal financial controls with reference to the financial statements.
Section 143 of Companies Act, 2013
Statutory Audit
Report  on whether the company has adequate internal financial controls system and operating effectiveness of such controls
Section 134 of Companies Act, 2013
Director Responsibility statement
Director's responsibility statement to state that directors
-had laid down internal financial controls to be followed by the Company
-and that such internal financial controls were adequate and operating effectively
Section 177 of Companies Act, 2013
Audit committee
-Evaluation of internal financial controls and risk management systems
-Call for / discuss  the comments of the auditors about internal control systems, the scope of audit, including the observations of the auditors and review of financial statement before their submission to the Board and
-May also discuss any related issues with the internal and statutory auditors and the management of the company
Schedule IV of the Companies Act, 2013
Independent Directors
Satisfy themselves on the integrity of financial information and that financial controls and the systems of risk management are robust and defensible
3
Applicability matrix
| | | | |
| --- | --- | --- | --- |
| Applicability > Requirements  of the Statutes / Acts | Listed companies | Unlisted Public Limited companies* | Other companies |
| Rule 8 of the Companies (Accounts) Rules, 2014 | ✓ | ✓ | ✓ |
| Statutory Auditor Report (Sec. 143) | ✓ | ✓ | ✓ |
| Director's Responsibility Statement (Section 134) | ✓ | | |
| Audit Committee (Sec. 177) | ✓ | ✓ | |
| Independent Directors (Schedule IV) | ✓ | ✓ | |
Specified class of companies:
public companies with a paid up capital of Rs.10 Crores or more;
public companies having turnover of Rs.100 Crores or more;
public companies, having in aggregate, outstanding loans or borrowings or debentures or deposits exceeding Rs.50 Crores or more
The above thresholds as existing on the date of last audited Financial Statements shall be taken into account
4
IFC vs. ICFR
| | | |
| --- | --- | --- |
| Basis of difference | IFC | ICFR |
| Full form | Internal Financial Control (IFC) | Internal Financial Control over Financial Reporting (ICFR) |
| Scope | It's scope is very vast (refer the definition in the next slide) | It's scope is restricted to financial reporting only |
| Definition source | It's defined in the Companies Act, 2013 under Section 134 | It's defined in the Guidance Note issued by ICAI in Sep'2015 |
| Applicability | Mandatory for listed companies | Mandatory for unlisted companies |
| Auditor's report | Will not comment on IFC | Will comment on the adequacy and effectiveness of ICFR |
Definition of IFC:
As per Section 134 of the Companies Act, 2013, the term "Internal Financial Control" means the policies and procedures adopted by the company for:
Orderly and efficiently conduct of it's business, including adherence to company policies,
Safeguarding of it's assets
Prevention and detection of frauds and errors,
Accuracy and completeness of accounting records, and
Timely preparation of reliable financial information
Definition of ICFR:
A process designed to provide reasonable assurance regarding the reliability of financial reporting and the preparation of financial statements for external purposes in accordance with generally accepted accounting principles. A company's internal financial control over financial reporting includes those policies and procedures that:
pertain to the maintenance of records that, in reasonable detail, accurately and fairly reflect the transactions and dispositions of the assets of the company;
provide reasonable assurance that transactions are recorded as necessary to permit preparation of financial statements in accordance with generally accepted accounting principles, and that receipts and expenditures of the company are being made only in accordance with authorizations of management and directors of the company; and
provide reasonable assurance regarding prevention or timely detection of unauthorized acquisition, use, or disposition of the company's assets that could have a material effect on the financial statements
Guidance note issued by ICAI in September'2015 has borrowed the definition of Internal Financial Control over Financial Reporting (ICFR) from Auditing Standard (AS) 5, An Audit of Internal Control Over Financial Reporting that Is Integrated with An Audit of Financial Statements issued by the Public Company Accounting Oversight Board (PCAOB), USA.
5
Our services for ICFR implementation:
a
Our deliverables  under ICFR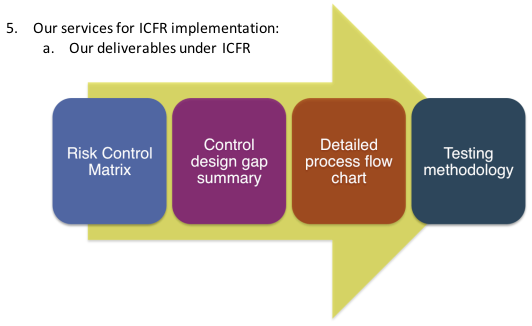 b
Scope of work
Our broad scope of work will be to review the IFC system related to Financial Reporting to comply with the regulatory requirement. Scope of work has been divided in the following sections:
Coverage of scope as per materiality concept

Identify significant accounts
Discuss the scope with statutory auditors, if required by client
Define materiality – Key/ non-key Risks
Design assessment of existing IFC system over Financial reporting

Perform & document walkthroughs to understand the design of existing IFC system
Document process maps with input, output, risk/ controls
Segregate controls into Entity level control, Process controls & IT general controls
Identity controls into Manual, Automated, Preventive & Detective
Perform segregation of duties analysis
Prepare a Risk Control Matrix for each significant accounts/process to be covered for review
Identify design gaps based on walkthroughs, interviews & discussion
Gap remediation

Prioritize control gaps into Material and non-material
Discuss the control gaps with process owners and co-develop the remedial plan
Periodic monitoring of remediation implementation plan
Enhance or optimize IT Controls to mitigate the control gaps, to the extent possible
Enhance SOP/ MIS/ DOA etc
Interim testing to confirm remediated gaps
Testing the operating effectiveness

Prepare testing plan & templates
Timing of testing
Document testing results
Prioritize testing gaps into Material and non-material
Identify mitigation/ compensating controls for material gaps
Co-develop remediation plans for testing gaps by engaging process owners.
c
Execution strategy