A
Objective of Statutory Compliances
To systematically provide timely and correct payment of statutory dues and filing of returns, full utilization of available tax credits, alertness about the implication of ever changing tax laws in the form of circulars and notifications.
B
Company Profile
A leading private sector infrastructure company, 5 major departments, 150 employees, 175 vendors, turnover INR 430 million, pan India presence, and overseas partners.
C
Challenge
The company was in the scale up phase in a Greenfield industry. On one hand it had operational issues that its management needed to address with urgency. At the same time it had inefficiencies in the area of Statutory Compliances which were dragging it behind and resulting in huge penalty and interest costs. It had VAT registrations in more than 8 States. There were significant delays in filing returns with government authorities. The taxes formed a significant part of their total billing to clients and required urgent attention. Every month management spent valuable time firefighting these issue.
D
Solution
After reviewing their situation exhaustively in-house, we made a detailed presentation of our processes that deal with this essential function to the Managing Director. We also outlined an action plan and time frame that would put this troublesome area on track by outsourcing it to us.
E
The Resistance
The Managing Director agreed that the area of Statutory Compliances needed urgent attention and overhaul. However, the company was already spending money on an in-house team to look after Statutory Compliances, and perhaps there was another way out?  Perhaps re-training his existing in-house team?
We explained that dealing with this area would require a commitment to deeper training, hiring highly experienced manpower, a longer timeframe and higher payroll costs. This would be an additional burden on the company's resources, one, perhaps, that would not go down well with the board and other stakeholders.
The other resistance was to the cost of outsourcing the process to us: our fees looked higher to the MD than the cost of running his in-house department.
F
Resolution of the Problem
We prepared a comprehensive plan that clearly demonstrated the returns on the fee that we charge.
If implemented, our services would result in savings of huge interest costs through timely compliance and of time spent by management in this matter.
This made good business sense to the MD and the function was outsourced to us.
G
Implementation and Integration
BC worked closely with the accounts department of the company. We carried out a due diligence process to do the health check of this system. A yearly statutory compliance calendar was prepared. We spent considerable time in understanding the client's business and discussed the reason for delays. We were quickly able to diagnose the real problems which included lack of understanding by staff, and inaccurate accounting. These had resulted in short or excess payments. BC overhauled and designed the complete Statutory Compliance system within 3 months of taking over.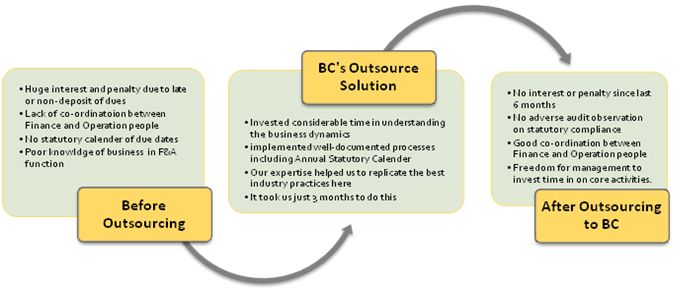 H
Current Status
Presently this system runs very smoothly, to the utmost satisfaction of the management of this company. Delays and Interest are a thing of past. This function also resulted in tangible improvement in the overall accounting process.
Much more than that, peace of mind in this area frees executives and company decision makers to take confident decisions in core areas of their business, and fulfill their commitments competitively.