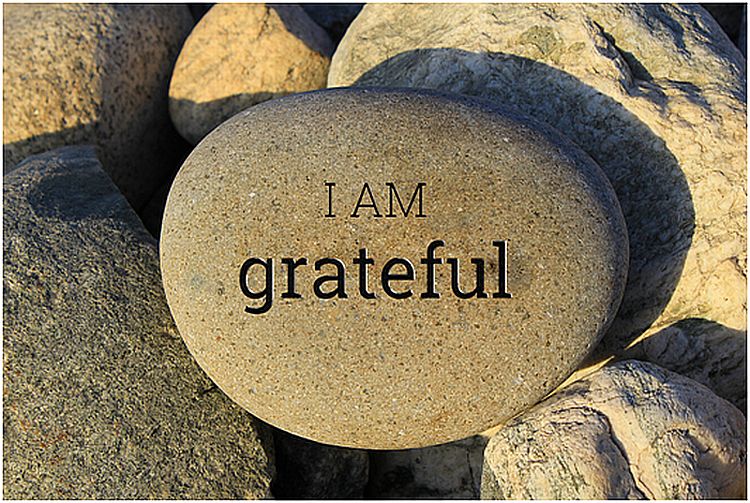 Being grateful makes me feel awesome!
It's around 6 am in the morning and I am just through with my morning walk. With a broad smile on my face, I pull out my spiralled daybook and make myself comfortable at the dining table. For 2-3 minutes I shut my eyes and visualise the day just gone by (yesterday) and look for at least 5 things for which I can be grateful. Then I open my eyes and write down these five things and re-live them again. This whole process takes just 5-6 minutes and fills me with lots of positive energy at the very start of my day.
I've practiced this small daily habit for three and half years and it has paid rich dividends in terms of positivity and satisfaction. Recently, I shared this habit with a friend and he pointed out the magnitude of this treasure, which I have built over a period of time. He did a rough calculation and told me that I have been grateful to more than 6000 times in last 3.5 years (i.e. 3.5 x 365 x 5). This simple revelation left me speechless and in a state of wonderment.
Just few days back, while watching a motivational video of Robin Sharma, I came across these beautiful lines, which made me keenly aware of the power of small daily habits:
"A life of mediocrity is the result of many years of daily neglect.
A life of excellence is the result of small acts of excellence every day"
Feelings play a very important role in our happiness and productivity; at least it does in my case. Positive feelings inspire positive action, which leads to positive results. Similarly, negative feelings feed a state of inaction or negative action, which results in negative outcomes. Being grateful at the start of day is one of the ways to feel really great about oneself. Lots of people whom I meet after a gap of a couple of years usually share that I have become very peaceful and highly positive since I last met them.
When I started this practice, finding 5 things every day for which I could be grateful used to be a struggle. It's because I used to look for something big to be grateful for. Gradually, I realized that I am already blessed with so many innumerable things around me for which I can be grateful. Now it takes few seconds to notice things for which I can be grateful.
Let me share a few things for which I have expressed gratitude in my daybook. Many of them get repeated over a period of time, which is fine. This list is not in any order of significance, I have jotted them down randomly:
Sweet home for having a space to live comfortably
Car for giving me flexibility of going anywhere and anytime
Parents for their education, upbringing and value system
Wife for her love and care
Business partner for his understanding and complimentary skills
Clients for trust in our services and paying on time
Fruits for giving me energy and necessary micro nutrients which keeps me healthy
Tiffin box for keeping my food warm
Inverter at home for consistent availability of electricity
Office boys for maintaining our office so well
Police for providing safety and security
Any specific person on a given day for giving time to meet me out of his busy schedule
Mentors for sharing their wisdom and guiding in the moments of confusion
Laptop for it's amazing speed and ease of use
Phone for it's amazing features and providing connectivity with the whole world
Maid at home for being a support system as me and my wife, both are working
My wife's school (where she works as an art and craft teacher) for providing an amazing atmosphere which keeps her happy and motivated
Our dining table where we can have our meals comfortably and it also works as office table when I need to work at home
Any person who make me feel good on any given day
My driver for driving safely and not taking uninformed leaves
My office colleague for doing their work efficiently
Shoe rack for keeping all the stuff at one place
Family doctor for his ability to diagnose and prescribe
Online shopping websites for saving lots of time
Barista café at Sector 18 for opening up at 8am
Rocking chair in my cabin for its comfort
Beautiful park across my home
Healthcare facility around me
Indigo Airlines for timeliness and affordable fare
Uber app for providing cab facility at a click of button
Money at various stages of my life
My body parts for functioning well most of the time
As you can see, this list is endless and I can go on and on and on.
One can practice gratitude just by thinking about it but writing a gratitude has proved to be highly advantageous for me. Whenever, I am in low energy phase of my life or feeling bogged down, I always go back to this treasure of mine, my daybook of gratitude. Just a plain reading of few pages refreshes me and reminds me how blessed I am. After that, many a time, I laugh at myself for making a situation significant enough to make me feel miserable.
Apart from making me feel awesome at the beginning of day, it has one more merit that feeling gratitude attracts more of those things for which I feel gratitude. I read following lines in a book named "The Magic", which cemented my belief in the power of being grateful:
"Whoever has gratitude will be given more, and he or she will have an abundance.
Whoever does not have gratitude, even what he or she has will be taken from him or her"
Usually, when we take anything (including any relationship) for granted and don't feel grateful for it, a strange thing happens. That thing or relationship starts disappearing or goes into a patchy zone. I have experienced this many times in the last 3 and half years since I started this practice.
It's my point of view that we usually get sad or disturbed by less than 5% things in our life, which we don't have or these are not going the way we want them to be. In that mental state, we hardly take note of what we already have or what we have already achieved in our life which is usually more than 95% in comparison to what we don't have at various stages of our life.
I am nowhere suggesting that one should not aspire for more of what one already has. My only point is that the journey of aspiration becomes more enjoyable (rather than stressful) by the simple act of acknowledging what we already have in all areas of life, put together.
As always, I look forward to hearing from you and your feedback. I would be grateful if you could share any small habits, which have contributed in raising the quality of your life. If you need any help/clarification to start this practice of gratitude, please feel free to contact me at my mail id chandan.goyal@blueconsulting.co.in
Wishing you an amazing life on a consistent basis!
Chandan runs a company named Blue Consulting Pvt. Ltd. , which specializes in providing Accounting and Taxation compliances services to MNC companies and professionally managed Indian companies. 
Links of other posts by Chandan:
How I manufactured time for myself [Part 1]
How I manufactured time for myself [Part-2]
Will this bonus matter when I turn eighty?
Pooch daala to life jhinga lala!

Latest posts by Chandan Goyal (

see all

)