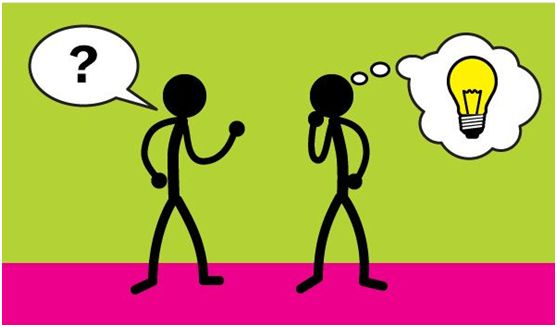 Pooch dala to life jhinga lala!
"If you just practice this three letter word, you'll never face problems in your personal and professional life. Any guesses for this word? Ok, let me reveal it to you – the three-letter magical word is, 'ask'. Don't assume anything in life, especially when you are in doubt – simply 'ask'." This is what our coach emphasized in a leadership program, and she spent more than 2 hours discussing this.
This insight hit me quite hard and I chewed on it for many days. I wondered why it's so difficult for me to 'ask'. When I dig deeper, I got to know that I operate from 'hesitation' and 'assumption'.
Hesitation stopped me from asking relevant questions and the fear factors used to be- what people would think about me (fear of looking bad). Or, someone could say 'No' to my request (fear of rejection). Similarly, I used to assume many things based on previous experiences and knowledge because that's an easy escape route to 'asking' and looking bad.
Later, I came across a Tata Sky ad, which captured this insight so beautifully that it has stayed with me forever as a "mantra". It's punch line was, "Poochne mein kiya jaata hai- Pooch daala to life jhinga lala" (There is no harm in asking- It makes your life rock!).
This simple insight contributed a lot in my life and got some amazing results. I am sharing few instances where "just asking" worked magically:
First laptop
I got an opportunity to work with an MNC in my first job, after qualifying as a CA in 2002. I was allotted a desktop computer for working, but I had a desire to work on laptop. I'd never worked on one before. At that time, the average price of laptop used to be in the range of Rs. 80,000 to 120,000. I 'asked' (requested) my managing director if I could be allotted a laptop instead of the desktop. To my utter surprise, he agreed without blinking an eye. I was super excited at that time and can re-live that experience even now.
Not having TV after marriage
Though I've watched TV avidly, I've never desired to have one for myself as it eats up a lot of quality time. I got engaged to my wife, Dolly, in 2006 and a conversation was going through my head that probably, now, after marriage, I would have to buy a TV. However, I 'asked' her, hesitantly, whether it would be ok if didn't have TV at home after marriage. She readily agreed, and till date we don't have TV at our home.
A decent job for my wife
Dolly wanted to work after taking a professional animation course in 2011. She is a wonderful artist and has done a 7 year course in Art & Craft. I was doing a leadership program and the Branch Head of an upscale private school happened to be in my group during that program. Initially, I was hesitant, as usual, to ask her if she could help my wife to get a job in her school or any other school. I revisited my mantra of 'Pooch dala to life jhinga lala' and dialed her number, and ended up asking for help. To my surprise, she said that she was urgently looking for an art and craft teacher. A panel of three senior teachers interviewed her and Dolly has completed more than four years with that school successfully. She is immensely happy and fulfilled with her job.
Visit to the cockpit of an airplane
I was flying back to Delhi and boarded the plane as soon as the boarding started. My seat was in the 1st row and the pilot of plane was standing outside the cockpit gate. I have been always curious to get a chance to peek into an airplane cockpit, which, I guess, is a prohibited area. I thought it's an excellent opportunity to ask the pilot if I could just peek into the cockpit. Fully sure of getting a 'No', I dared to ask and he said, "Sure. Young man, come, I'll show you". It was a dream come true for me.
Additional revenue
We are in the field of providing Finance & Accounts outsourcing services to professionally managed companies in India. In the transition process, we need to invest the valuable time of our senior management, which never gets billed to clients. Truth is that, we never asked our clients and assumed that they wouldn't pay for this. In 2012, while pitching for a client, I included an additional component in our professional fee in the name of "Set Up Fee" (in lieu of time spent by senior management), which was the equivalent of our one-month recurring fee. Our client readily agreed and right after that we started to include it as a component of our professional fee. Later on, I got to know that it's a standard international practice.
Biggest client saved
In 2013, we were struggling to streamline the accounting and taxation work of one of our biggest clients, which we couldn't afford to lose at any cost. Some employees of the client, who were coordinating with us, created an environment of rumor and uncertainty about our continuity. Somewhere, we also starting buying this rumor in our head and felt quite uneasy. At the same time, we were quite sincere and determined to streamline the process and just needed some more time. I was hesitant to speak with CFO about this but it was becoming difficult to work in such an environment of uncertainty. Anyhow, I gathered courage (based on my mantra of 'asking') and prepared myself to speak with CFO about it. To my surprise, he said there was no such thing in his mind. Rather, appreciated our efforts in streamlining the whole process. Today, it's one of our most satisfied clients, and they've given additional work over the past two years.
I hope this sharing will help you somewhere in life. I also invite ('ask') you to share your own experiences where in you were quite hesitant but 'asked' and got what you wanted. Your sharing will add value in my life.
Pooch daala to life jhinga lala!
Happy asking!
Chandan runs a company named Blue Consulting Pvt. Ltd. , which specializes in providing Accounting and Taxation compliances services to MNC companies and professionally managed Indian companies.
Links of other posts by Chandan:
How I manufactured time for myself [Part 1]
How I manufactured time for myself [Part-2]
Convert your car into a "University on Wheels"!

Latest posts by Chandan Goyal (

see all

)